Let's consider the current scenario.
Digital transformation is nothing new anymore and it has become a must when it comes to maximizing the possibilities of a company in order to achieve business goals. The pandemic took us a decade forward so rapid innovation is paramount.
CSPs have been working hard in order to transform their processes and networks. Technologies such as 5G, IoT, Cloud, NFV, SD WAN are not the future but the present. Despite the fact that automation speeds up and simplifies those processes, working teams are learning not only about those technologies, but also the skills that let them redefine their roles.
Continuous training has become a powerful tool for staff to be main actors in the digital transformation through their skills. It is not just a matter of willingness or schedule; it is necessary to generate an environment in which a professional is able to face a process of reskilling or upskilling in the times demanded by a dynamic market.
What is the Iquall Learning Portal?
The Iquall Learning Portal is aimed at Telecommunication professionals who want to broaden their skills for a new world. This tool is more than the MAT framework and it is thought to guide our clients in the transformation of their networks.
It is the result of eight months of investigation, design and production working along with some of the most important carriers in the market. You will find four levels of certification, from an initial level called Associated to the top level called Expert.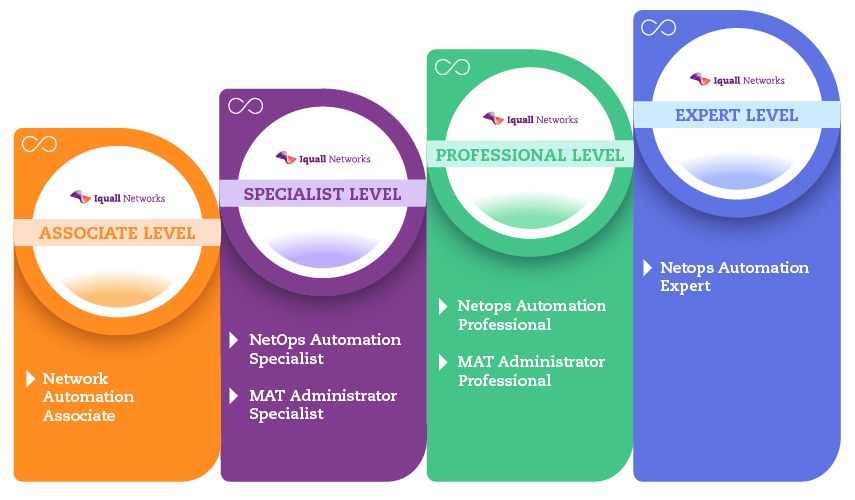 Having so many options available does not mean that you have to take all the courses from the beginning. Following the best practices in education, we have developed two learning paths aimed at different profiles and roles (and many more coming soon).
Iquall NetOps Automation: Aimed at engineers who are looking for developing use cases and managing their networks in an effective and efficient way by using automation.
Iquall MAT Administrator: This path is aimed at MAT administrators who need to broaden their knowledge and skills in order to be able to perform troubleshooting and to operate the tool from a server infrastructure or a users management point of view.

Attendees will get a digital badge which certifies their knowledge and which is kept in their wallet. They will have the possibility to validate their certificates in a blockchain network.
What 's next?
Visit https://iquall.net/learning-portal/ to learn more about this wonderful tool and about new releases and paths.