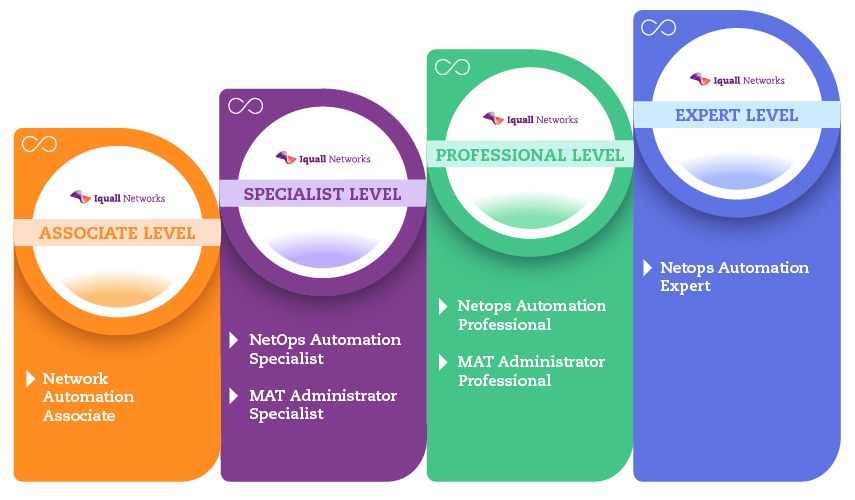 The Iquall Networks Learning Path is made up of 4 main levels: Associated, Specialist, Professional and Expert. Each of these levels will be unlocked as the student passes the test of the previous corresponding certification with more than 60% correct answers.
The Iquall Training Path begins with a first common level, which once passed, enables two different paths depending on the type of user and the knowledge they want to obtain:
This learning path is aimed at those engineers who need knowledge at a low level of every tool and module in MAT. Once this learning path, which is made up of 4 certificates, is achieved, students will be able to create their own end-to-end automation use cases by implementing Iquall Networks' automation framework.
In addition, they will be able to manage and to do troubleshooting on the platform, as well as on the network.
Not only will tools in MAT be covered, but also how to use existing programming languages within the network.
This learning path is aimed at MAT administrators who are looking for improving their knowledge and skills that will allow them to operate and do troubleshooting of the tool from a service architecture and users management perspective.
Get informed and choose according to the skill you want to improve to develop your professional profile.

Train with the best, train with our experts on our Iquall Learning Portal.

After finishing your course and after passing the tests you will be able to prove your achievements with digital certifications issues by Credly and validate them on Blockchain.

Then, you will be ready to share with the rest of the world that you are an expert on Automation guided by Iquall Networks.
Do you want to know more?