1. What are your most important responsibilities and challenges as VP of Network Automation Services at Iquall Networks?
As VP of NAS, I find one of my most important challenges to be able to offer a team and work scheme that can adapt to a changing, volatile, complex and ambiguous technological and business scenario, in order to respond to one of the most important responsibilities which is to focus on the needs and value criteria of each of our customers.
2. Why did you choose Iquall as your place of development and what makes you continue to choose it?
Iquall is a second home for me. I chose it initially because it offered me a training and development environment, in constant interaction with very capable and trained people. Over time we have grown in different aspects, the ecosystem of specialists has become increasingly larger and the challenges themselves have evolved and their impact has grown exponentially. It is for this reason, the constant challenge and growth, that I continue to choose Iquall as my second home.
3. What was the biggest challenge that you had to face or are currently facing at Iquall Networks?
Today, in retrospect, thanks to the growth that we have had together at Iquall, I see every past situation as a milestone in our development history. Therefore, the biggest challenge is the one that is yet to come.
4. What is the main value added that NAS offers to customers at Iquall Networks?
In NAS, we emphasize our ability to understand the value of each solution that Iquall Networks offers to our customers. We understand what success or failure means in each solution we develop for them and we translate those needs (often human emotions) into solutions that, together with the other teams at Iquall Networks, we successfully deliver.

5. In this hybrid context, how do you organize and motivate your team?
The hybrid context offers us an exceptional opportunity to combine variables such as responsibility, goal orientation, and flexibility. It is in these areas where we find the strength to organize ourselves towards objectives and motivate ourselves with achieved successes and the right balance between responsibility and flexibility.
6. What is an interesting fact about you that people may not know about today?
Two situations allowed me to be part of a huge movement in its beginnings and see its growth and development over the years. The first occurred in the 1980s when, thanks to a visionary elementary school director who understood that computing was the future, I became part of the school's computer team. Since then, algorithmic and systemic thinking has been setting the pace and steps of my learning. The second occurred around 2010, where I eventually became part of the Agile Argentina group events at Microsoft's offices in Buenos Aires. It was very interesting to see how at that time, it was incipient and seeking its place in the corporate world. Today, the agile mindset is becoming a key piece in the telecommunications world.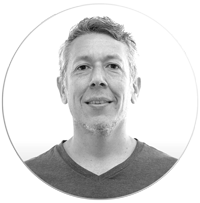 Gastón Tejia
VP of Network Automation Services & Engineering